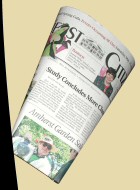 Real Estate Articles
I was asked by a local newspaper to do a regular weekly article on the subject of real estate. At first, I were worried that there wouldn't be enough stuff to write about. After about 3 hours, I had more topics in mind than I could ever possibly write about. So much for worrying...
Here is a collection of many of those articles. I hope you enjoy reading them as much as I enjoyed writing them, but mostly, I hope you find them informative and helpful.